---
---
That's the Power of Love
This is Me!
Grab your popcorn 😁! Trump gives Barr green light to declassify 2016 campaign surveillance documents
You are such a Wiggle 😂😈
I can give you a Thriller 🌃 night
I'm not the only one..
My Heart 💓 ❤️ will go on and on...
Trump #MAGA Vs Pelosi #FakeNews : Trump Is DONE Negotiating With @DNC Snakes, If You Were Trump Woul
Exclusive Private Demand Free Speech Reception: Trump Hotel July 3 w/Roger Stone Get Your Tickets B
Nancy Pelosi may be forced into pursuing impeachment against Trump: Do You Think That's Wise?
All eyes on Iran's uranium As They Threaten To Make Weapons Grade Stockpiles! What Is Our Next Cours
Wicked Game ... lullaby
It's The 11th hour In IRAN Getting Nukes! @RealDonaldTrump Says not On His Watch! Do You Support Con
Peter Boykin Needs Your Help To #DemandFreeSpeech & #StopTheBias Will You Help This Patriot?
The way you make me feel "jazz"
---
---
---
---
---
City Supervisor Aaron Peskin speaks before a vote on a surveillance technology ordinance that he sponsored, in San Francisco, California, U.S., May 14, 2019. REUTERS/Jeffrey Dastin
May 15, 2019
By Jeffrey Dastin
SAN FRANCISCO (Reuters) – San Francisco officials on Tuesday voted 8 to 1 to ban the purchase and use of facial recognition technology by city personnel, in a move to regulate tools that local Silicon Valley companies helped develop.
The ordinance, which also would require city departments to submit surveillance technology policies for public vetting, can become final after a second vote next week by the same officials, the city's Board of Supervisors.
The action puts San Francisco at the forefront of increasing discontent in the United States over facial recognition, which government agencies have used for years and now has become more powerful with the rise of cloud computing and artificial intelligence technologies.
"We have a fundamental duty to safeguard the public from potential abuses," Aaron Peskin, the city supervisor who championed the ban, said before the board's vote.
Peskin said the ordinance was not an anti-technology policy. It allows continued use of surveillance tools like security cameras; the district attorney or sheriff can make an appeal to use certain restricted technology in exceptional circumstances as well.
Rather, Peskin said, the aim is to protect "marginalized groups" that could be harmed by the technology.
For instance, Amazon.com Inc has come under scrutiny since last year for selling an image analysis and ID service to law enforcement. Researchers have said this service struggles to identify the gender of individuals with darker skin, prompting fears of unjust arrests. Amazon has defended its work and said all users must follow the law.
Civil rights groups and companies including Microsoft Corp, which markets a facial recognition service, have called for regulation of the technology in recent months. This has added momentum to the effort in San Francisco and to a parallel ban reportedly in the works in nearby Oakland.
For a draft text of the San Francisco ordinance, see https://bit.ly/30jkPuJ
While communities at the heart of the technology industry are moving to limit facial recognition, police elsewhere have increased their use, primarily to spot potential suspects in known offender databases after a crime has occurred.
U.S. customs agents are vetting foreign travelers at airports with facial recognition, and other federal agencies use the technology too.
Daniel Castro, vice president of the Information Technology & Innovation Foundation, said concerns that the U.S. government would use face identification for mass surveillance, like China has, were overblown. The non-profit includes technology industry representatives on its board.
San Francisco's "ban on facial recognition will make it frozen in time with outdated technology," he said.
(Reporting By Jeffrey Dastin in San Francisco; editing by Bill Berkrot and Cynthia Osterman)
Source: OANN
---
---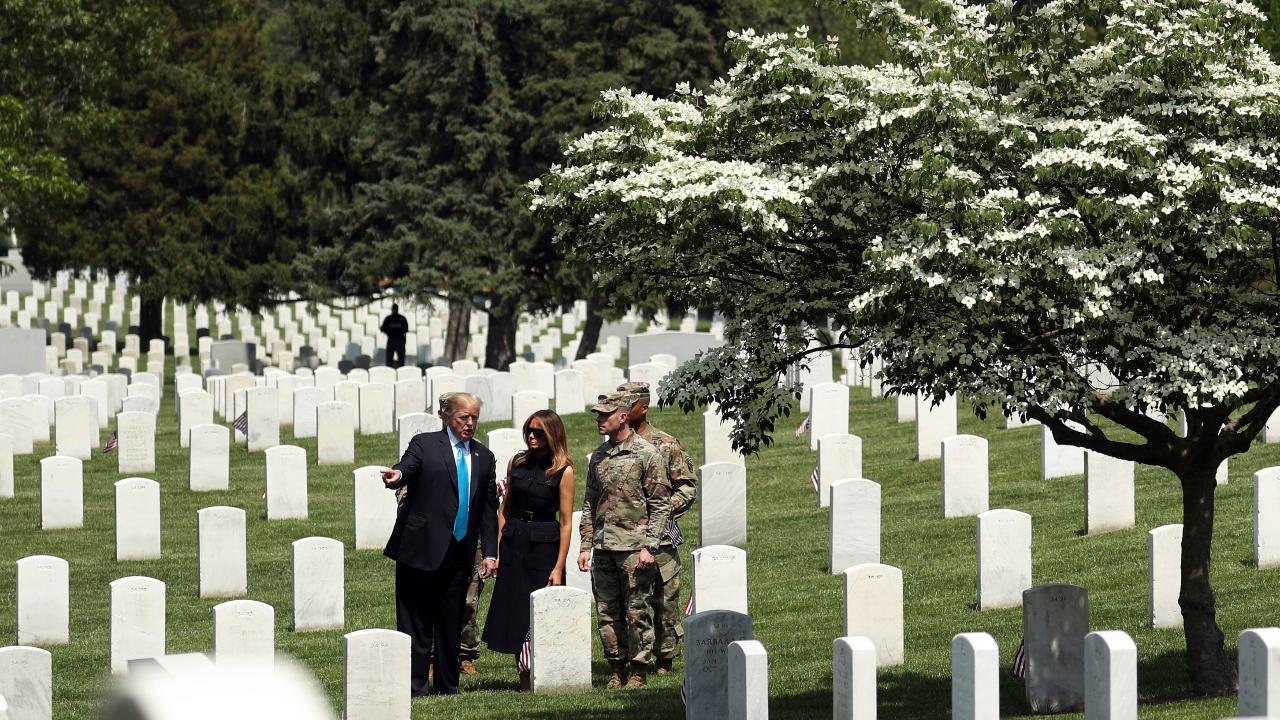 **Want FOX News Halftime Report in your inbox every day? Sign up here.**
On the roster: 'The torch; be yours to hold it high' - The GOP's long game to diminish Biden - How Socialist Bernie became Bernie the millionaire - Phony Pelosi video blows up on right wingers - *ahem* A clean getaway
'THE TORCH; BE YOURS TO HOLD IT HIGH'
We feel self-conscious to even talk about Peter Jackson's World War I documentary, "They Shall Not Grow Old" because so few people have discussed it.
If social media engagement is a reflection of interest in the masterful film that heartbreakingly tells the story of the war that made the modern world compared to those from any television show about sexy dragon masters or sexy serial killers or sexy pirates, or... God help us.
But this is our note, and we think what Jackson has accomplished needs far more attention. In fact, our culture is in terrible need of the movie right now. You can find discussions of libertarianism and intersectionality in "Game of Thrones" elsewhere, if that's your bag.
Jackson took 100 hours of mostly unseen films and 600 hours of taped interviews with veterans of the Great War that had been moldering at the Imperial War Museum and turned them into an arresting, evocative work that we will not soon forget.
The movie was made to coincide with the 100th anniversary of the end of the war last November, and made it to some American theaters this year, but is now widely available to stream at home.
Its title comes from the 1914 poem "For the Fallen" by Lawrence Binyon.
"They shall grow not old, as we that are left grow old://Age shall not weary them, nor the years condemn.//At the going down of the sun and in the morning//We will remember them."
It is a movie told entirely in the voices of the survivors – there is no narrator – but it is most certainly about the dead. Binyon, too old for service but who would later make it to the front in 1916 as a medic, was writing with the pang of guilt that many of his countrymen felt when the terrible cost of the war was first becoming clear.
Fighting a war with 20th century technology and 19th century techniques produced immediate, catastrophic losses. In one battle alone – Verdun, where Binyon tended to the wounded – more than 300,000 men were killed.
British losses were staggering. Nearly a million subjects of the empire were killed. More than 2 percent of the United Kingdom's entire population was dead by the time the guns were finally silenced. Nearly an entire generation of men lost.
Our losses were a pittance by comparison. More than 116,000 Americans died "over there," something like 20 times fewer fatalities as a percentage of our population compared to Britain.
You may notice that British people wear paper poppies on their lapels in the month of November to commemorate Armistice Day when, on the 11th hour of the 11th day of the 11th month, the senseless, industrialized slaughter finally was allowed to end.
We celebrate our Veterans Day at the same time, but it has a very different meaning for us than it does to our British cousins. We use that day to thank our neighbors who served. They are called to stand up at church or the football game to hear our grateful applause. We celebrate the living. They mourn the dead of a million soldiers who fought with ancient methods against modern means.
The poppies are from another war poem, "In Flanders Fields," by Royal Army surgeon John McRae after the battle of Ypres in Belgium.
"In Flanders fields the poppies blow//Between the crosses, row on row,// That mark our place; and in the sky//The larks, still bravely singing, fly//Scarce heard amid the guns below.//We are the Dead. Short days ago//We lived, felt dawn, saw sunset glow,//Loved and were loved, and now we lie,//In Flanders fields."
For Americans under 35, there is an answer to Veterans Day. Are you a U.S. citizen or permanent resident? Do you have a high school diploma or the equivalent? Do you meet medical, moral and physical requirements? Your local recruiter would be happy to talk.
But there isn't such an answer for Britons to Armistice Day.
There will, Lord hear our prayer, never be another war like those that devastated the Western world in the first half of the last century. Modern technology and techniques have changed the way we fight, and the existence of nuclear weapons has for more than 70 years ensured that great powers avoid direct confrontations.
Nov. 11 is a day for Americans to celebrate those who served. It is a day for the British to mourn the dead.
We have our own day for that.
Memorial Day is many things in our culture: The unofficial start of summer, a much-needed long weekend and a good time to buy a mattress. But its purpose is clear in its name: To lift high the memory of our own war dead.
Memorial Day grew out of Decoration Day, when the survivors and widows of the Civil War would festoon the graves of those killed in our own great, tragic war.
The war to end slavery and preserve the union claimed nearly 700,000 lives, a proportion of our population that time roughly equivalent to the losses Britain suffered in World War I.
And like the Great War, the slaughter was industrial in scale. There were more than 12,000 casualties before noon at the Battle of Antietam alone.
This weekend is the time for Americans to pause over a hard truth: The freedom and prosperity we enjoy was bought with blood. More than 1.3 million Americans have died in conflicts back to the revolution that made us a nation. That's about the population of Dallas. And they too shall not grow old.
Because we are free, we can observe Memorial Day any way we choose. And life is indeed for the living, so we should enjoy these first ardent rays of the summer sun.
But we would suggest that you make some room in your playlist amid the dragon-fired bodice rippers for Jackson's masterful work. You will find it engrossing for sure, but it may also stir in you a fresh desire to be the kind of citizen who would be worthy of their sacrifices.
[Ed. note: In observance of Memorial Day, the Halftime Report will not be published on Monday.]

THE RULEBOOK: EQUAL REPRESENTATION
"Taking each State by itself, its laws are the same, and its interests but little diversified. A few men, therefore, will possess all the knowledge requisite for a proper representation of them." – Alexander Hamilton or James Madison, Federalist No. 56
TIME OUT: BRIGHT STARS
Atlantic: "The first stars ignited billions of years ago… The stars blazed until they exploded in bursts powerful enough to forge heavy chemical elements. … The new elements found their way into other stars, and then planets, and, eventually, life. It's a remarkable cosmic tale, with a recent twist. Some of the stardust has managed to become sentient, work out its own history, and use that knowledge to better understand the stars. Astronomers know stars so well, in fact, that they can tell when one doesn't belong—when it's migrated to our galaxy from a completely different one. Today astronomers study the chemical compositions of stars near and far… Astronomers take starlight, absorbed and collected by telescopes, and break it down into its constituent lines, same as a prism of glass stretches light into the colors of the rainbow. These lines correspond to different elements, from the light kind … to the heavy stuff…"
Flag on the play? - Email us at HALFTIMEREPORT@FOXNEWS.COM with your tips, comments or questions.
SCOREBOARD
Trump job performance
Average approval: 41.6 percent
Average disapproval: 53.2 percent
Net Score: -11.6 points
Change from one week ago: down 4.2 points
[Average includes: CBS News: 41% approve - 52% disapprove; Monmouth University: 41% approve - 52% disapprove; Quinnipiac University: 38% approve - 57% disapprove; Fox News: 46% approve - 53% disapprove; Gallup: 42% approve - 52% disapprove.]
THE GOP'S LONG GAME TO DIMINISH BIDEN
Vanity Fair: "Welcome to the plot to take down Joe Biden, the 2020 candidate most feared by President Donald Trump and the Republican insiders working to re-elect him. For years, decades really, Biden was largely written off as a buffoon. … After a couple years lashed to the Trump merry-go-round, Uncle Joe looks like the steady, centrist status quo. … With laser-like precision, the G.O.P. machine plans to expose it all… Republicans want to rewind the clock and re-write the script, recasting Biden as the rhetorically cringe-worthy second coming of Crooked Hillary, responsible for nearly everything that's gone wrong in Washington during Biden's 50 years walking the corridors of power. To pull it off, the R.N.C., working hand in hand with the Trump campaign, has assembled perhaps its largest-ever war room, with approximately six to seven operatives working in opposition research and four to five conducting near 'round-the-clock rapid media response. The effort—featuring public document requests and other standards of the dirt-digging trade—has been well underway since last year."
Bill Weld gets Trumpian with Trump - ABC News: "President Donald Trump's lone Republican primary challenger, former Massachusetts Gov. Bill Weld, ratcheted up his attacks on the president Tuesday night. Speaking at the first in a series of Kennedy Institute events focused on the 2020 election cycle, Weld levied a number of his harshest verbal jabs yet, saying earlier this week that the president preferred an 'Aryan nation.' 'I celebrate that America has always been a melting pot,' Weld said at the speaking event on Tuesday. 'It seems he would prefer an Aryan nation.' … When asked to explain what specifically he meant by 'Aryan nation,' Weld told ABC News that he believes the president 'would prefer a nation with no immigrants.' The comment, which appeared to be a step further than Weld had gone with past attacks aimed at the president, even elicited a justification from the long-shot candidate himself."
HOW SOCIALIST BERNIE BECAME BERNIE THE MILLIONAIRE
Politico: "Based, though, on a deeper examination of [Bernie Sanders'] financial disclosures, his tax returns, property records in Washington and Vermont and scarcely leafed-through scraps of his financial papers housed here at UVM, Sanders' current financial portrait is not only some stroke-of-luck windfall. It's also the product (with the help of his wife) of decades of planning. The upward trajectory from that jalopy of his to his relative riches now—as off-brand as it is for a man who once said he had 'no great desire to be rich'—is the product of years of middle-class striving, replete with credit card debt, real estate upgrades and an array of investment funds and retirement accounts. As an immigrant's son who started close to the bottom and has ended up nearer to the top, Sanders has a narrative arc that would form the backbone of the campaign story of almost any other candidate. But it's more complicated for him. There's never been anybody like Sanders in the modern political history of this country—somebody who made a career out of haranguing millionaires … and who is now a millionaire himself."
Castro speaks out against Trump's merit immigration plan - NPR: "Democratic presidential candidate Julián Castro has a plan to change immigration policy in the U.S. The former Housing and Urban Development secretary wants to address immigrant detention, family reunification and the immigration court system. In stark contrast to current policy, he also wants to decriminalize crossing the border illegally, a plan he outlined in a Medium post in April. 'For a long time in this country we actually did not treat crossing the border as a criminal act. We treated it as a civil violation,' Castro told NPR. 'A lot of the problems that we see in the system today flared up after we started treating it as a criminal offense.'
PHONY PELOSI VIDEO BLOWS UP ON RIGHT WINGERS
WaPo: "Distorted videos of House Speaker Nancy Pelosi (D-Calif.), altered to make her sound as if she's drunkenly slurring her words, are spreading rapidly across social media, highlighting how political disinformation that clouds public understanding can now grow at the speed of the Web. The video of Pelosi's onstage speech Wednesday at a Center for American Progress event, in which she said President Trump's refusal to cooperate with congressional investigations was tantamount to a 'coverup,' was subtly edited to make her voice sound garbled and warped. It was then circulated widely across Twitter, YouTube and Facebook. One version, posted by the conservative Facebook page Politics WatchDog, had been viewed more than 2 million times by Thursday night, been shared more than 45,000 times, and garnered 23,000 comments with users calling her 'drunk' and 'a babbling mess.' The origin of the altered video remains unclear…"
Giuliani tweets unclear apology for sharing the video - WashTimes: "Rudy Giuliani, President Trump's attorney, gave a confusing statement Friday after sharing and deleting a video of House Speaker Nancy Pelosi Thursday that was doctored to display her as inarticulate. 'Ivesssapology for a video which is allegedly is a caricature of an otherwise halting speech pattern, she should first stop, and apologize for, saying the President needs an 'intervention.' Are,' Mr. Giuliani tweeted along with a gif of a basketball game celebration, which was screenshotted by Mediaite. Mr. Giuliani followed it up with another tweet that makes his point better. 'Nancy Pelosi wants an apology for a caricature exaggerating her already halting speech pattern. First she should withdraw her charge which hurts our entire nation when she says the President needs an 'intervention. 'People who live in a glass house shouldn't throw stones,'' he tweeted."
TRUMP GIVES BARR AUTHORITY OVER CLASSIFIED RUSSIA DOCS
AP: "President Donald Trump has granted Attorney General William Barr new powers to review and potentially release classified information related to the origins of the Russia investigation, a move aimed at accelerating Barr's inquiry into whether U.S. officials improperly surveilled Trump's 2016 campaign. Trump on Thursday directed the U.S. intelligence community to 'quickly and fully cooperate' with Barr's investigation of the origins of the multiyear probe of whether his campaign colluded with Russia. Former intelligence officials and Democratic lawmakers criticized Trump's move, which marked an escalation in his efforts to 'investigate the investigators' as he works to undermine the findings of special counsel Robert Mueller's probe. Trump's announcement came amid mounting Democratic calls to bring impeachment proceedings against him."
Rep. Nadler says Mueller willing to do private testimony - NBC News: "Special counsel Robert Mueller has expressed interest in giving private testimony to Congress about his two-year investigation into Russian interference with the 2016 presidential election. Mueller has told House Judiciary Committee Chairman Jerrold Nadler that he is willing to make a public opening statement, but leave his testimony behind closed doors, Nadler said on 'The Rachel Maddow Show' Thursday night. Nadler, D-N.Y., has made repeated efforts for Mueller to speak in front of Congress. If Mueller did proceed with private testimony on his report, the public would get a transcript, Nadler said."
PLAY-BY-PLAY
Pelosi makes it to recess, doesn't cave to impeachment pressures - Politico
UK PM Theresa May announces resignation amid fury over Brexit - Fox News
Trump unveils a second, $16 billion bailout for farmers hit by his trade war - WSJ
AUDIBLE: LET THE GAMES BEGIN
"When he engages in the general, it will be like tagging Hulk Hogan into the ring." –Rep. Eric Swalwell talking about what he expects when President Obama gets involved in the general election.
ANY GIVEN SUNDAY
This weekend Mr. Sunday will sit down with presidential candidate Rep. Eric Swalwell, D-Calif., and Sen. Lindsey Graham, R-S.C. Watch "Fox News Sunday with Chris Wallace." Check local listings for broadcast times in your area.
#mediabuzz - Host Howard Kurtz has the latest take on the week's media coverage. Watch #mediabuzz Sundays at 11 a.m. ET.
FROM THE BLEACHERS
"Chris and Brianna, Thank you for sharing the story of 'Crechale's Cafe's Highway Legacy' by John Edge. This has to be more than serendipitous as my wife and I have a July trip planned to Jackson MS. We will be visiting to see our son umpire the MiLB series between Jackson Generals v Pensacola Blue Wahoos. I promise to email a review of both Crechale's and the ballpark's fare." – Dan Burch, Turlock, Calif.
[Ed. note: Oh good! Ours is a world filled with delights for those willing to see them. But little could ever surpass a truly great onion ring.]
Share your color commentary: Email us at HALFTIMEREPORT@FOXNEWS.COM and please make sure to include your name and hometown.
*AHEM* A CLEAN GETAWAY
Boston Globe: "When Nate Roman came home from work on May 15, he could tell that a stranger had been in his house. Roman, 44, lives in a single-family home on a typical suburban tree-lined street in Marlborough. He said it's possible that he forgot to lock his back door, because whoever entered his house didn't break anything to gain entry. But here's the strange part: whoever ventured into his home didn't take anything. They just thoroughly cleaned his house. Roman looked around and saw that they neatly made the beds, vacuumed the rugs, and scrubbed the toilets. … Marlborough Police Sergeant Daniel Campbell said the department hasn't heard of any other situations like this one. … Roman said he still doesn't know who did it. The best theory he could come up with is that a housekeeping service mistakenly went to the wrong address and showed up at his house."
AND NOW, A WORD FROM CHARLES…
"The premise of a free market is that people can withhold their labor if they find the conditions under which they work intolerable." – Charles Krauthammer (1950-2018) writing for Time magazine on Jan. 31, 2003.
Chris Stirewalt is the politics editor for Fox News. Brianna McClelland contributed to this report. Want FOX News Halftime Report in your inbox every day? Sign up here.
Source: Fox News Politics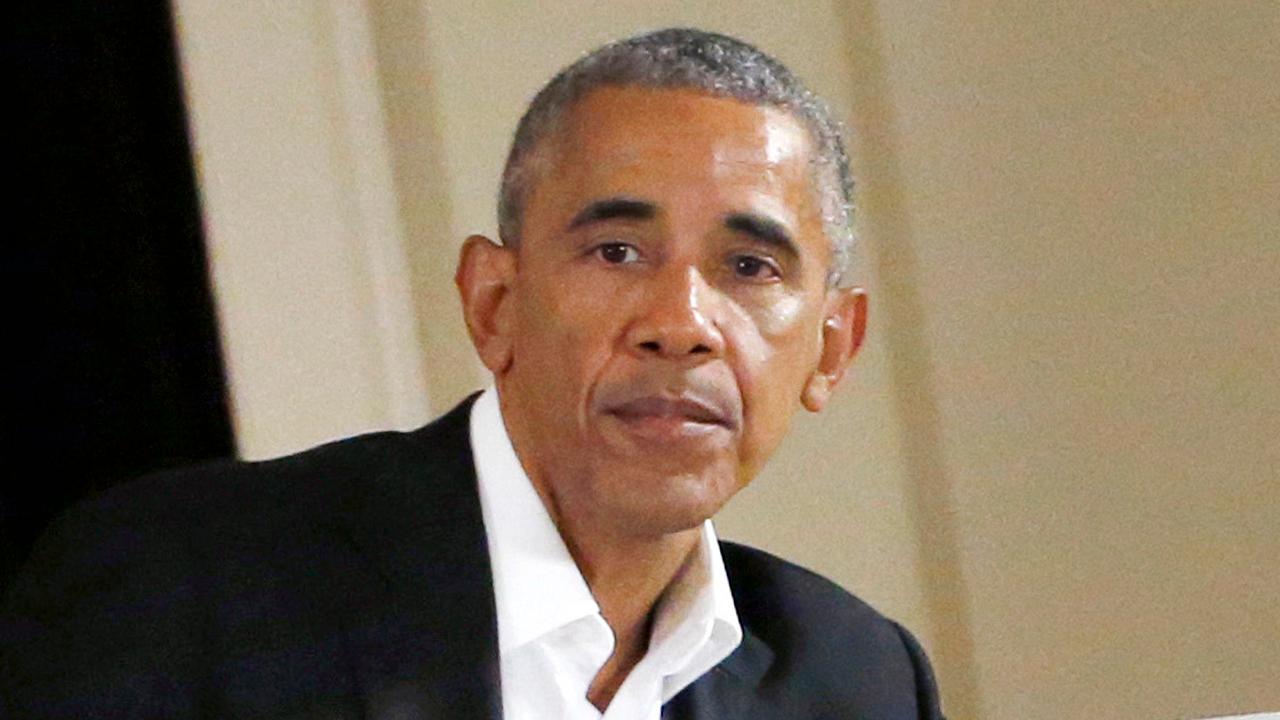 The Trump administration proposed revoking Obama-era discrimination protections for transgender people in health care on Friday, a move LGBT groups fear will result in some Americans being denied needed medical treatment.
The Health and Human Services Department released a proposed regulation that in effect says "gender identity" is not protected under federal laws that prohibit sex discrimination in health care.
HUD SECRETARY CARSON WANTS TO ROLL BACK OBAMA MANDATE ON GENDER IDENTITY AT HOMELESS SHELTERS
It fits into a backdrop of administration actions to limit or move back some of the new recognition for LGBT people in areas ranging from military service to housing.
"The actions today are part and parcel of this administration's efforts to erase LGBTQ people from federal regulations and to undermine nondiscrimination protections across the board," said Omar Gonzalez-Pagan, a senior attorney on health care at Lambda Legal, a civil rights organization representing LGBT people.
But the HHS official overseeing the writing of the new regulation said transgender patients would continue to be protected by other federal laws that bar discrimination on the basis of race, color, national origin, sex, age and disability.
"Everyone deserves to be treated with dignity and respect," said Roger Severino, who heads the HHS Office for Civil Rights. "We intend to fully enforce federal laws that prohibit discrimination."
Asked about the charge that the administration has opened the door to discrimination against transgender people seeking needed medical care of any type, Severino responded, "I don't want to see that happen."
The Trump administration's proposed rule reverses the Obama administration, which concluded that the Affordable Care Act's anti-discrimination section does indeed protect transgender people seeking health care services.
Friday's action had been expected by activists on both sides of the nation's social issues divide. Trump's religious conservative base has argued that the Obama administration stretched the meaning of "sex discrimination" when it included gender identity as a protected class. Civil rights and LGBT groups say that view is logically and legally flawed.
The proposed rule change is unlikely to have immediate consequences beyond the realm of political and legal debate. It faces a 60-comment period and another layer of review before it can be finalized. Court challenges are expected.
"Despite the goals of this White House ... courts have been clear for decades that prohibitions on sex discrimination encompass discrimination against transgender individuals," said Louise Melling, deputy legal director with the American Civil Liberties Union. Her organization, she added, will challenge the proposal in court.
Melling said the potential impact of the proposed rule goes beyond transgender people and could also subject women to discrimination for seeking or having had an abortion. The proposal would remove "termination of pregnancy" as grounds for making a legal claim of sex discrimination in health care.
Abortion opponents had argued that the Obama regulation could be construed to make a legal argument for federal funding of abortions.
In a twist, the rule would also affect the notices that millions of patients get in multiple languages about their rights to translation services. Such notices often come with insurer "explanation of benefits" forms. The Trump administration says the notice requirement has become a needless burden on health care providers, requiring billions of paper notices to be mailed annually at an estimated five-year cost of $3.2 billion.
HHS official Severino said that the Trump administration is going back to the literal text of the ACA's anti-discrimination law to correct what it sees as an overly broad interpretation.
The Obama rule dates to a time when LGBT people gained political and social recognition. But a federal judge in Texas said the rule went too far by concluding that discrimination on the basis of gender identity is a form of sex discrimination, which is forbidden by civil rights laws.
Under the original rule, a hospital could be required to perform gender-transition procedures such as hysterectomies if the facility provided that kind of treatment for other medical conditions. The rule was meant to carry out the anti-discrimination section of the ACA, which bars sex discrimination in health care but does not use the term "gender identity."
In the Texas case, a Catholic hospital system, several states and a Christian medical association argued that the rule went beyond the law as written and would coerce providers to act against their medical judgment and religious beliefs.
Severino also said that the proposed rule does not come with a new definition of a person's sex. Earlier, a leaked internal document suggested the administration was debating whether to issue an immutable definition of sex, as based on a person's genital organs at birth.
Source: Fox News Politics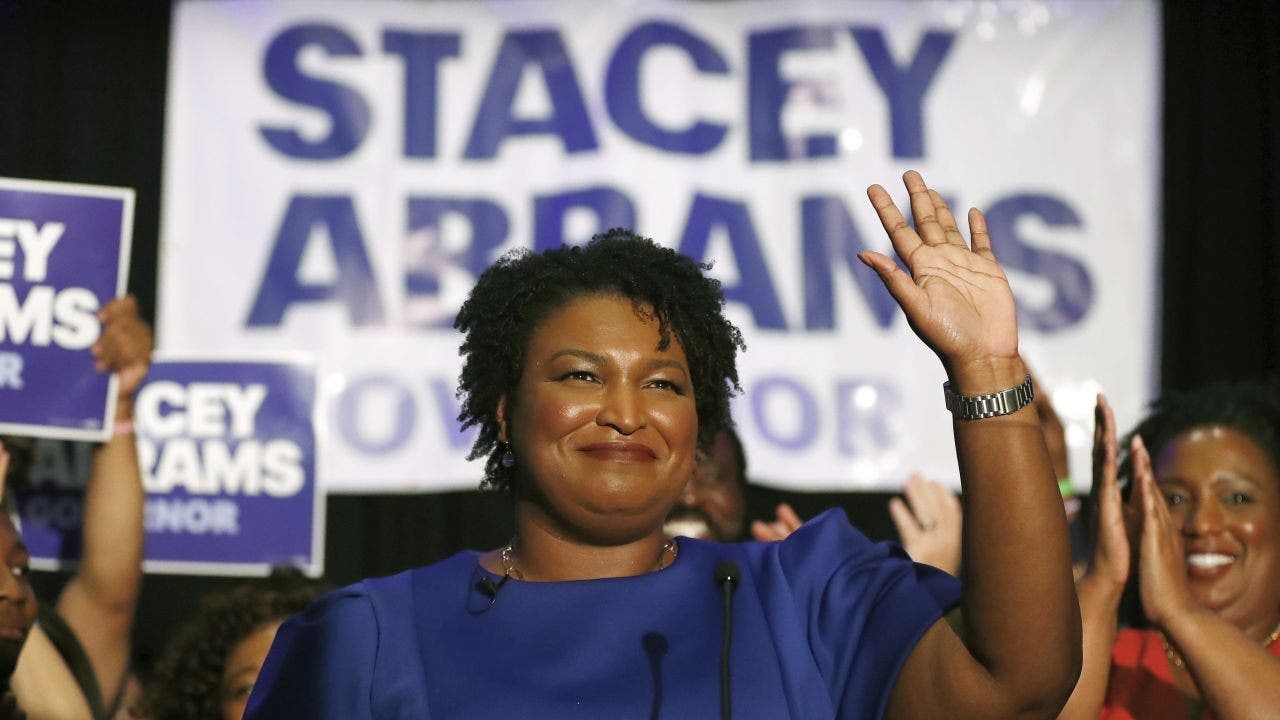 Democrats should embrace identity politics rather than running away from the issue, Georgia Democrat Stacey Abrams said on Wednesday.
"I would argue that identity politics is exactly who we are, and it's exactly how we won," she told an audience at event held by the Center for American Progress in Washington, D.C.
She pointed to efforts in Florida and Georgia where, she indicated, Democrats attracted new voters.
Her comments came as the party wrestled with how moderate it should appear before the general election in 2020. Conservatives have criticized identity politics as a way of fragmenting the electorate according to their skin color and other attributes.
But according to Abrams, identity politics helped her party connect with voters.
"When we refuse to engage in the conversation of identity politics, when we refuse to acknowledge that we see you and we understand you and we understand the barriers that you face, then what we are met with is a lack of trust," she said.
HEMINGWAY ON GILLIBRAND'S 'IDENTITY POLITICS' PUSH: 'COME UP WITH A BETTER GIMMICK THAN BEING YOUNG AND A WOMAN'
She also pushed back on criticism of the tactic, arguing that detractors used the term "identity politics" as a "dog whistle."
"The notion of identity politics has been peddled for the last 10 years, and it's been used as a dog whistle to say that we shouldn't pay too much attention to the new voices coming into progress," she said.
CLICK HERE TO GET THE FOX NEWS APP
"We have to recognize that the internal threat we face is a fear of who we are," she said.
Abrams caught scrutiny after she refused to concede her loss in the Georgia governor's race in 2018, citing allegations of voter suppression.
She has been outspoken about voter suppression and indicated she might throw her hat in the ring for the 2020 Democratic presidential nomination.
Source: Fox News Politics
FILE PHOTO: The Boeing logo is pictured at the Latin American Business Aviation Conference & Exhibition fair (LABACE) at Congonhas Airport in Sao Paulo, Brazil, Aug. 14, 2018. REUTERS/Paulo Whitaker/File Photo
May 24, 2019
(Reuters) – Shares of Boeing Co rose as much as 3% to more than a two-week high on Friday after Reuters reported that the Federal Aviation Administration (FAA) expects to approve 737 MAX jets to return to service as soon as late June.
Shares of the world's biggest planemaker have fallen nearly 15% since the fatal crash of an Ethiopian Airlines 737 MAX jet in March, erasing about $40 billion in market value.
The stock has also been among the worst performers on the S&P 500 index and the Dow Jones Industrial Average. The benchmark index is up about 3% during the same period, while the Dow has risen by a marginal 0.2%.
"The dialogue is shifting more towards when the aircraft can get back into service as opposed to if," Morgan Stanley analyst Rajeev Lalwani wrote in a note.
"With shares down about 20% from their recent highs … and the risk-reward skewing more favorably, we are comfortable with our "overweight" rating and price target of $500."
If the aircraft is cleared to fly by June, its operators, including Southwest Airlines Co, American Airlines Group Inc and United Continental Holdings Inc, would likely not have to extend costly cancellations that they have already put in place for the peak summer flying season.
(Reporting by Ankit Ajmera and Sanjana Shivdas in Bengaluru; Editing by Anil D'Silva)
Source: OANN
FILE PHOTO: May 23, 2019; Milwaukee, WI, USA; Milwaukee Bucks forward Giannis Antetokounmpo (34) drives for the basket as Toronto Raptors forward Kawhi Leonard (2) defends in the fourth quarter in game five of the Eastern conference finals of the 2019 NBA Playoffs at Fiserv Forum. Mandatory Credit: Benny Sieu-USA TODAY Sports
May 24, 2019
Giannis Antetokounmpo and the Milwaukee Bucks went from a 2-0 series lead to a 3-2 deficit and face elimination Saturday in Toronto. The MVP candidate had a message for Milwaukee fans on Thursday night after the Raptors took a third consecutive game in the best-of-seven series.
"We're not gonna fold," Antetokounmpo said. "We're the best team in the league. We're gonna go in, give it everything we got. We can't fold. We're gonna come back to Milwaukee being pissed."
After the 105-99 loss Thursday in Game 5, Antetokounmpo received treatment for a right ankle injury. He said there was no particular play when his ankle was hurt, but added it wouldn't be a problem when the team takes on the Raptors in Toronto in Game 6.
"I just want to win," Antetokounmpo said. "I think we had a chance to win it, but we didn't. Obviously, I'm pissed. I am not gonna lie to you. We got two more games to go."
Bucks coach Mike Budenholzer took Antetokounmpo out of the game with 1:12 remaining. He said he noticed the injury when Antetokounmpo attempted a backcourt steal against Kawhi Leonard.
Budenholzer said the Bucks will all be ready to roll Saturday.
"I think we talk about the character of the group and the toughness and competitiveness of the group," Budenholzer said. "It's first of four. We've got to go to Toronto, get a game, and I think the group will be ready. They'll fill their cup up and be ready to go."
–Field Level Media
Source: OANN
FILE PHOTO: Dec 24, 2017; Arlington, TX, USA; Dallas Cowboys running back Ezekiel Elliott (21) and quarterback Dak Prescott (4) run onto the field before a game against the Seattle Seahawks at AT&T Stadium. Mandatory Credit: Erich Schlegel-USA TODAY Sports
May 24, 2019
Dallas Cowboys owner Jerry Jones remains upbeat about signing quarterback Dak Prescott to a long-term deal after the sides exchanged contract proposals.
Prescott said Thursday his representatives countered the original contract offer from the Cowboys.
"We never really know where we are with anybody until we get one done," Jones said. "But we're moving along satisfactorily with all of our contract negotiations."
Jones told Cowboys Hall of Famer Michael Irvin on the Rich Eisen Show in early May that he was confident the deal with Prescott, entering his fourth NFL season, would get done.
"We are sold on Dak," Jones said. "We do want to have him for the long term. We think he is worthy of investing in for the long term. …
"When you look at the snaps he has had, the situations he has been in and how he has got here and you see he has performed, we see real upside in Dak. You don't have it all yet. We love the way he logically progresses through a game. You see when the going gets tough when he's got to come from behind when he turns it loose a little bit. You see him make those plays. He emboldens me to make a deal with him that puts him here for the long term."
Dallas is installing a tweaked offensive system after Scott Linehan was replaced as coordinator by Kellen Moore. Prescott said he notices changes that are beyond subtle shifts.
"You'll definitely notice it because we're presenting it different," Prescott said. "I can't tell you we're gonna have whole new offensive plays and things like that, but they'll definitely be presented in different ways. And that'll be a big help for us."
The Cowboys selected Prescott, a Mississippi State product, in the fourth round of the 2016 NFL Draft. He has started every game in three seasons, leading the team to 32 wins and two NFC East titles.
Prescott, who turns 26 in July, has completed 66.1 percent of his passes, throwing for 10,876 yards with 67 touchdowns and 25 interceptions.
–Field Level Media
Source: OANN
WASHINGTON (AP) — She's calling for an "intervention" to save the nation from him. He says she's "crazy."
The enmity between President Donald Trump and House Speaker Nancy Pelosi deteriorated Thursday into rude-and-then-some questioning of his fitness for office and her sanity, with personal attacks flowing from both the nation's top elected officials after a dramatic blow-up at the White House.
However intended, the exchanges left uncertain ahead of the 2020 election whether Trump and the Democrats will be able to work together on serious, must-pass tasks, such as funding the government and raising the federal borrowing limit, let alone thornier issues such as immigration, national security and more.
Pelosi went first, with demure shrugs and practiced sass. Then, as a tornado warning blared across Washington, Trump followed with a derisive nickname — something he had declined to give her, up to now.
"She's a mess," Trump told reporters at an afternoon news conference in which he lined up White House staff to testify to his calmness the day before when he walked out after three minutes at a meeting with Pelosi and Senate Democratic leader Charles Schumer.
"Crazy Nancy. ... I watched Nancy and she was all crazy yesterday."
As for himself, he declared, "I'm an extremely stable genius."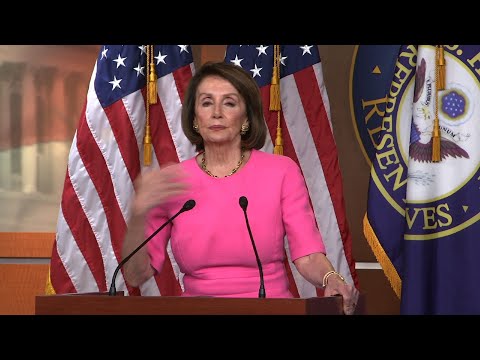 Pelosi scolded back:
"When the 'extremely stable genius' starts acting more presidential, I'll be happy to work with him on infrastructure, trade and other issues," she tweeted.
There was more, before and after that exchange, for political enthusiasts with the time and interest to follow along.
For those who don't: The theater came a day after Trump stalked out of the Cabinet Room demanding an end to all congressional investigations before he would work with Congress on repairing U.S. infrastructure or other matters. He apparently was wound up generally over the ongoing congressional Trump-Russia probes into whether he obstructed justice, and specifically by Pelosi's jab a few minutes earlier at the Capitol that he "is engaged in a cover-up."
"I don't do cover-ups," fumed Trump, who is fighting subpoenas for testimony by current and former White House officials.
Hanging over the increasingly personal exchanges is a drumbeat among about two dozen Democrats and one Republican to launch impeachment hearings against Trump based on special counsel Robert Mueller's report, which described Trump's efforts to block his federal investigation. Pelosi has resisted that impeachment pressure, preferring a methodical process by which Congress investigates and lays out the facts on the question of obstruction of justice. She says the House is "not on a path to impeachment," but she's been clear this week that an impeachment inquiry is not off the table.
Short of that, she's been happy to give Trump a hard time all year, including questioning his manhood and forcing him to re-open the government without the border wall money he demanded. On Thursday, she said the White House is "crying out" for impeachment — the idea being that a vindication by the Republican-controlled Senate would help assure his re-election.
On Thursday, subtlety went by the wayside. Pelosi said Trump has established a pattern of unpredictability, and at one point she even joked about the 25th Amendment, the Constitution's provision laying out the procedure for replacing a president.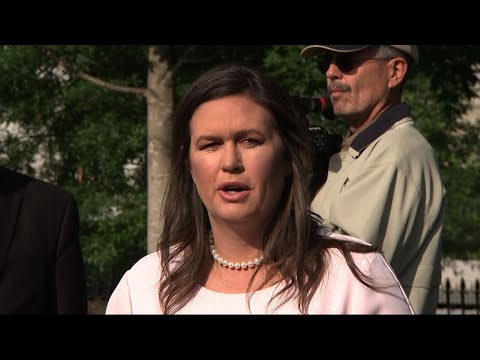 "I wish that his family or his administration or his staff would have an intervention for the good of the country," Pelosi said at her weekly news conference, adding that she prays for him and the nation.
"Maybe he wants to take a leave of absence," she said. Asked whether she's concerned about Trump's well-being, she replied, "I am."
Trump denied he wanted the House to formally charge him.
"I don't think anybody wants to be impeached," he said.
Pelosi, the second in line to the presidency, said she thinks Trump's actions Wednesday were part of his skill at distraction. But she also suggested what he does isn't all strategic.
"Sometimes when we're talking to him he agrees," she said, only to change his mind. "He says he's in charge and he may be."
During questions, Pelosi said she thought a reporter had asked about "statutory" intervention, the 25th Amendment.
"That's a good idea," she said with a smile. "I am going to take it up with my caucus. Not that they haven't been thinking about it."
She has been insulting Trump since the meeting Wednesday that was supposed to be about bridges and other crumbling infrastructure.
"For some reason, maybe it was lack of confidence on his part ... he took a pass, and it just makes me wonder why he did that," she told reporters back on Capitol Hill. "In any event I pray for the president of the United States."
Trump tweeted back: "Nancy, thank you so much for your prayers, I know you truly mean it!"
___
Associated Press Writers Lisa Mascaro, Mary Clare Jalonick, Zeke Miller and Jonathan Lemire contributed to this report.
___
Follow Kellman and Miller on Twitter at http://www.twitter.com/APLaurieKellman and http://www.twitter.com/ZekeJMiller .
---
Follow #US1ANews via Social Media